TOO MANY REACTORS AND NOT ENOUGH CARBON REDUCTION
Studies performed by MIT, Commission on Energy, and International Atomic Energy Agency all agree that approximately 1500 to 2000 new atomic reactors would have to be built to reduce greenhouse gas emissions by enough to make a meaningful difference.
There are currently 449 nuclear power stations (approx), If we were running around 2000 reactors in total we would exhaust our main uranium reserves in a few decades. We would then need to mine lower grade uranium, this would itself cause more greenhouse emissions. If the potential 2000 reactors were used to replace the coal stations, we would have a 20% reduction in greenhouse emissions. If used as a new capacity to replace true renewable sources, then our emissions would actually increase.
TOO MUCH MONEY
1500 more reactors would cost trillions of dollars. New reactors going online in the US in the 1980s and 90s cost on average 4 billion dollars each. Reactors to recently come online in Japan in the last few years were in the order of $2000 / KW.
Taking an average larger power plant of 1200MW and an average conservative cost of $1250 / KW, this gives a construction cost of 1.5 billion.
Yearly costs per 1000kg of avoided CO2 emmisions are $68.9 for wind and $132.5 for nuclear power.
TOO MUCH TIME
Construction of 1500 new reactors means that we will need to open a new reactor every 2 weeks beginning today, for the next 60 years. This is impossible as the current nuclear manufacturers are only capable of doing half this amount if they are pushed to their absolute capacity. Climate change cannot wait for Nukes.
TOO MUCH WASTE
Operating another 1500 or more new reactors would create the need for a new Yucca Mountain sized radioactive dump site somewhere in the world every 3 to 4 years. Yucca Mountain has been in progress for almost 20 years and still is at least 10 years from being finished. The state of Nevada has also vigorously opposed the construction of the Yucca facility.
Due to the opposition to radioactive dump sites many countries including the US are attempting to reprocess the nuclear waste, as a means of managing the waste. This is a dangerous technology, linked with increased Leukemia rates amongst children living nearby reprocessing plants as a result of increased radiation being released into the surrounding environment.
POST CONTINUES Read more

Photo: Wikipedia
Devil in trouble
The Tasmanian Devil is in deep trouble. Since 1995 they have had to contend with the terrible facial cancer which is bringing them to the brink of extinction. Some scientists say they may only have 10-20 years left unless something drastic is done to protect them.
The Disease
The facial carcinoma, Devil Facial Tumor Disease (DFTD) disrupts the devils ability to feed and they die from malnutrition usually within 6 months. What a terrible way for these wonderful creatures to die.
Scientist have stated a drop in the devil's numbers has led to a loss of genetic diversity. This in turn has meant that the devil's immune system does not fight the cancers.
Please see quote below from Dr Katherine Belov of the Sydney University's School of Veterinary Science.
"Devils do not mount an immune response against DFTD, This is due to a loss of genetic diversity in the most important immune gene region of the genome: the Major Histocompatibility Complex (MHC)."
"In the case of devils, genetic diversity at the MHC is so low, and the MHC type of tumour and host are so alike, that the host does not see the tumour as 'non-self'."
So a loss of habitat due to logging has reduced the devil's gene pool which has meant the devil's are unable to effectively fight this disease.
The Greed of big logging companies
Another disaster caused by the greed of big companies, they must be stopped. Gunns and co, along with their friends in high places, must be sent a clear message that we as citizens of this country will not stand for the continued destruction of our environment and the animals that live there.
We can save them
The devil's in the Northwest of Tasmania are basically not yet affected by DFTD, however the continued clear-fell logging by companies such as Gunn's will further threaten this wonderful creature and cause them to go the way of their extinct cousins the Tasmanian Tiger.
This is our opportunity, stop the clear fell logging in Tasmania and especially in the Northwest area and right away we start to give this wonderful creature a fighting chance.
We can't bring the Tassie Tiger back, but given the right attitude we can save the Tassie Devil, SO;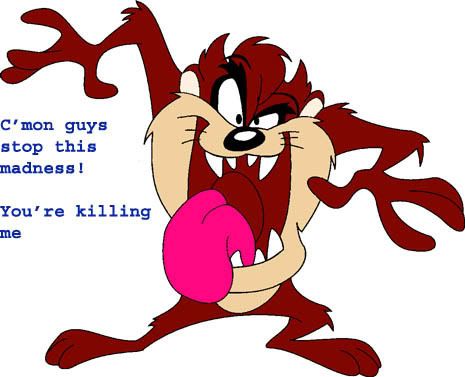 Picture: Looney Tunes via Wikipedia
Websites: Tassie Devil on Wikipedia and Save The Tassie Devil


Video: YouTube
Anybody 'out there' watching us would be dumbfounded.
It's not the fault of the majority but the fault of a small minority who run the show solely for their own benefit.
By this I mean Monsanto, DuPont, the Petrochemical Industry, the Military Industrialists, the Churches, Politicians and Lawyers who protect the real 'evil doers', but at the top of the pile of criminals are the Bankers & Financiers who have their grubby greedy hands on the leavers of what passes for a 'society'… it's the 'blind leading the blind'.
Website: Species Alliance
Well I just couldn't resist and whilst in the moment I'll add, two Wrongs wont make a right either Ms Wong.
This post is regarding Australia's minister for Climate Change and Water (Penny Wong) and her relative inaction regarding Professor Ross Garnaut's interim greenhouse review.
The story so far. Australia is dominated by the Banks, the Resource industry and the Industrial Farming sector… they are the ones, who at present with more than a little help of the Rice & Cotton mob in the not so deep north, who justify their greed with the defense of 'export growth' & 'jobs', whilst the mob in the not so deep north go on butchering our most important Murray Darling waterway.
The Garnaut Climate Change Report is handed in and it tells us what most thinking people already know… like it's not that hard to realize that to freeze the World's pollution at sort of 1990's levels, when there were already signs of climatic arrhythmia, is not unlike closing the barn door after the horse has bolted… to the power of a number just sightly south of infinity.
POST CONTINUES Read more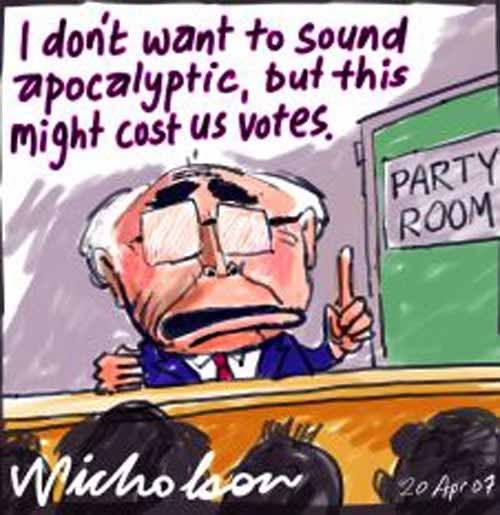 Photo: Nicholson Cartoons
G'day,
Before you go on with this post I must say up front that I have always (since '76) hated our ex-prime minister John Howard and his circle of 'friends' (both within and outside government) with a passion. He is and was in my opinion a totally dishonest, mean-spirited and stupid individual (clever's not intelligence) who got to power because his ideology suited the resource industry and those who invest in it.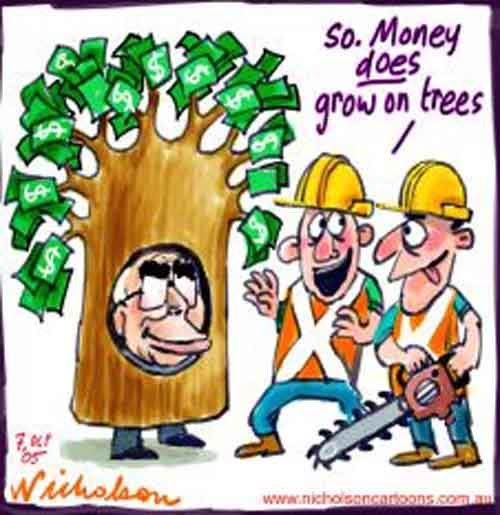 Photo: Nicholson Cartoons
I believe we should take a page out of Norway's way of running a country. They nationalized their oil industry and used the money to pay off their debt. They invested in education & services and are now one of the best educated and prosperous countries in the world.
Some years ago American corporations laughed at Norway's intention to build deep sea oil drilling platforms… a few years later the US had to swallow there pride and buy their platforms from Norway. How do I know this, my mother's Norwegian, I lived there for a couple of years and their treatment of a raging 'Bush Boy' from Kenya was a credit to their tolerance and understanding… unlike the treatment metered out to me by the British or Australian 'education' system.
POST CONTINUES HERE Read more
Comments