Video: YouTube
When I first came across this 'little' bit of footage I thought, well I; like many others, knew a lot of this stuff either factually or instinctively, but, WOW! I hadn't managed to piece the things together as well, nor as comprehensibly.
After I'd lifted my jaw back off the ground and push my eyes back in their sockets, I thought this explains fully why things that need to be done never get done, it explains fully why they are trying to push Nuclear Power down our throats and when they do talk about solar energy… it has to be in space, where small businesses can't be fully involved, if at all.
This series explains sooo much and it dovetails with sooo much… it even explains the Subprime mortgage crisis; which I always felt was contrived, and how it will result in taking from the 'poor' and giving to the extremely rich. It explains why all countries are in debt and how that's used to effectively make democracy nothing but an diabolical illusion, an 'in' joke for those in power.
This sequence of footage has got it all folks, Elizabeth Taylor and Richard Burton, Jesus and Mary; both of them. It has Secret societies, major cities like London, Rome and New York. It has the ancient Pyramids of Egypt with their Pharaohs, as well as the Pope and the Queen with all their wealth Gold and precious jewels, you name it, it's got it… I hope you enjoy the series (all 29 of them) as much as I do.
TOO MANY REACTORS AND NOT ENOUGH CARBON REDUCTION
Studies performed by MIT, Commission on Energy, and International Atomic Energy Agency all agree that approximately 1500 to 2000 new atomic reactors would have to be built to reduce greenhouse gas emissions by enough to make a meaningful difference.
There are currently 449 nuclear power stations (approx), If we were running around 2000 reactors in total we would exhaust our main uranium reserves in a few decades. We would then need to mine lower grade uranium, this would itself cause more greenhouse emissions. If the potential 2000 reactors were used to replace the coal stations, we would have a 20% reduction in greenhouse emissions. If used as a new capacity to replace true renewable sources, then our emissions would actually increase.
TOO MUCH MONEY
1500 more reactors would cost trillions of dollars. New reactors going online in the US in the 1980s and 90s cost on average 4 billion dollars each. Reactors to recently come online in Japan in the last few years were in the order of $2000 / KW.
Taking an average larger power plant of 1200MW and an average conservative cost of $1250 / KW, this gives a construction cost of 1.5 billion.
Yearly costs per 1000kg of avoided CO2 emmisions are $68.9 for wind and $132.5 for nuclear power.
TOO MUCH TIME
Construction of 1500 new reactors means that we will need to open a new reactor every 2 weeks beginning today, for the next 60 years. This is impossible as the current nuclear manufacturers are only capable of doing half this amount if they are pushed to their absolute capacity. Climate change cannot wait for Nukes.
TOO MUCH WASTE
Operating another 1500 or more new reactors would create the need for a new Yucca Mountain sized radioactive dump site somewhere in the world every 3 to 4 years. Yucca Mountain has been in progress for almost 20 years and still is at least 10 years from being finished. The state of Nevada has also vigorously opposed the construction of the Yucca facility.
Due to the opposition to radioactive dump sites many countries including the US are attempting to reprocess the nuclear waste, as a means of managing the waste. This is a dangerous technology, linked with increased Leukemia rates amongst children living nearby reprocessing plants as a result of increased radiation being released into the surrounding environment.
POST CONTINUES Read more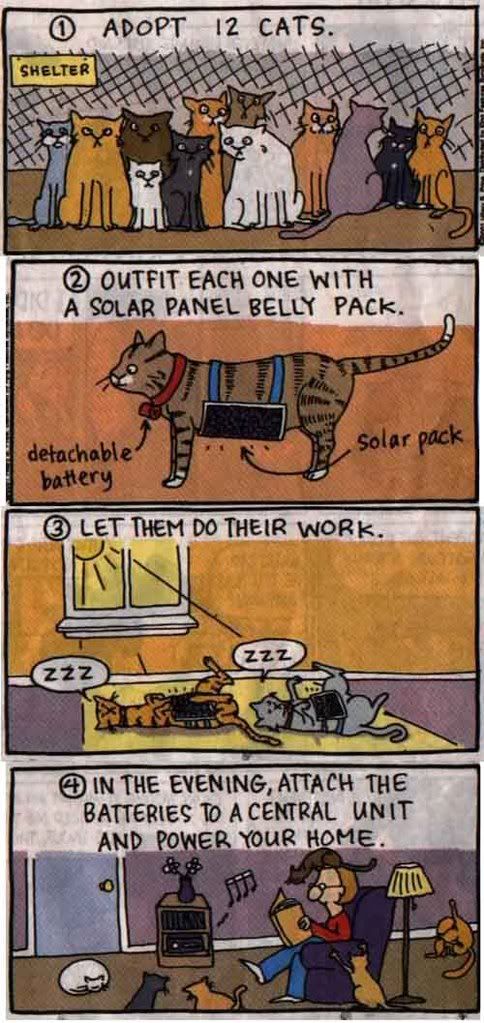 Photo: home.nc.rr.com/eshiue/
So all it's going to take to solve our energy crisis is a few billion cats set to work lying about in the sun.
On a more serious note I just want to pose one question.
Why is it that Governments around the world are continuing to build new nuclear power plant?
One look at the earlier Chernobyl post should be enough to make any decent person realize that we must use alternatives to nuclear power. I guess that answers my question, too few in positions of power are decent people.
Website: Cat Solar
EPEAT is a system which allows buyers to make informed decisions regarding the environmental impact of computer desktops, laptops and monitors before they go ahead and purchase them.
"EPEAT evaluates electronic products in relation to 51 total environmental criteria, 23 required criteria and 28 optional criteria. To qualify for registration as an EPEAT product, the product must conform to all the required criteria."
"Products are also ranked in EPEAT according to three tiers of environmental performance – Bronze, Silver, and Gold. All registered products must meet the required criteria, and achieve Bronze status. Manufacturers may then achieve a higher level EPEAT "rating" for products by meeting additional optional criteria, as follows":
EPEAT environmental rankings



Meets all 23 required criteria

Meets all 23 required criteria plus at least 50% of the optional
criteria

Meets all 23 required criteria plus at least 75% of the optional
criteria
Website: "EPEAT" Electronic Product Environmental Assessment Tool and on Wikipedia "EPEAT" on Wikipedia
https://en.wikipedia.org/wiki/Electronic_Product_Environmental_Assessment_Tool

At 28 watts it seems to me to be a worthwhile investment… if anybody has bought the 'Ionmax Silent Ionic Tower Air Purifier UV' I/we would be grateful for your input.
Website: Andatech
Comments