Photo: Wikipedia
Devil in trouble
The Tasmanian Devil is in deep trouble. Since 1995 they have had to contend with the terrible facial cancer which is bringing them to the brink of extinction. Some scientists say they may only have 10-20 years left unless something drastic is done to protect them.
The Disease
The facial carcinoma, Devil Facial Tumor Disease (DFTD) disrupts the devils ability to feed and they die from malnutrition usually within 6 months. What a terrible way for these wonderful creatures to die.
Scientist have stated a drop in the devil's numbers has led to a loss of genetic diversity. This in turn has meant that the devil's immune system does not fight the cancers.
Please see quote below from Dr Katherine Belov of the Sydney University's School of Veterinary Science.
"Devils do not mount an immune response against DFTD, This is due to a loss of genetic diversity in the most important immune gene region of the genome: the Major Histocompatibility Complex (MHC)."
"In the case of devils, genetic diversity at the MHC is so low, and the MHC type of tumour and host are so alike, that the host does not see the tumour as 'non-self'."
So a loss of habitat due to logging has reduced the devil's gene pool which has meant the devil's are unable to effectively fight this disease.
The Greed of big logging companies
Another disaster caused by the greed of big companies, they must be stopped. Gunns and co, along with their friends in high places, must be sent a clear message that we as citizens of this country will not stand for the continued destruction of our environment and the animals that live there.
We can save them
The devil's in the Northwest of Tasmania are basically not yet affected by DFTD, however the continued clear-fell logging by companies such as Gunn's will further threaten this wonderful creature and cause them to go the way of their extinct cousins the Tasmanian Tiger.
This is our opportunity, stop the clear fell logging in Tasmania and especially in the Northwest area and right away we start to give this wonderful creature a fighting chance.
We can't bring the Tassie Tiger back, but given the right attitude we can save the Tassie Devil, SO;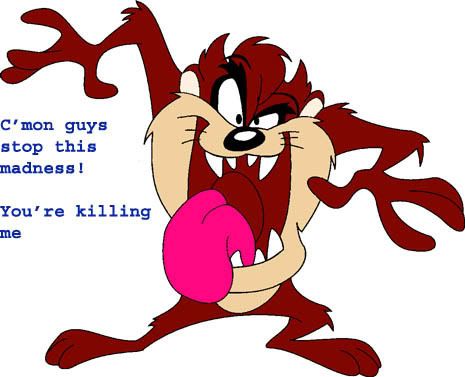 Picture: Looney Tunes via Wikipedia
Websites: Tassie Devil on Wikipedia and Save The Tassie Devil


Video: YouTube
The thought that occurred to me whilst watching this clip was. Is it effecting animals? If it is, then neurosis is unlikely to be the cause. If it's not effecting then, then either it's all bullshit or there is a reason why it's not effecting animals… I'd be checking out the animals.
As for our doctors, most are little more than drug pushers with unwarranted superiority complexes… many doctors drink too much, they smoke, they take recreational drugs and are addicted to prescription drugs, they get into troubles with gambling debts, cheat on their partners, and they kill more than 20,000 patients a year in Australia through their incompetence (and a similar percentage of patients apparently in the US and probably elsewhere), doctors also commit suicide and murder, in short they are human, not gods.


Video: YouTube
Unfortunately the video seems to have been removed, maybe due to some pressure being exerted on YouTube? who knows. Basically the video tells the story of two Japanese people (Junichi and Toru) speaking out about the Japanese whale meat scam, and then they were thrown in Gaol. Many people have written to the Japanese Prime Minister to have them released, but as far as we know they are still behind bars.
On the 16 February 1942 the Japanese gunned down 22 nurses on a beach in Sarawak and before anybody accuses me of racism, forget it, it's a fact. Another fact is I have nothing against the Japanese, but I do have a problem with those in charge of whatever race or religion, who claim to be honorable, when in fact they are obviously not.
I do not blame the Japanese per say, in fact it is very reassuring that some of the Japanese have enough honor to stand up to those in their government, who it appears have zero honor… proven by their obvious lies about their on going murdering of Whales being 'scientific research'.
These are highly intelligent and very social animals, and to have that smug so and so, Joji Morishita, from the Japanese delegation at the recent Chillian International Whaling Commission, liken the murdering whales to the slaughter of cattle… an animal of little intelligence and social awareness, well it goes beyond the pale and there is not anything honorable about someone who persists with their claim of scientific research, an honorable person or country would not hide behind lies Joji Morishita.
Comments