C'mon you guys, your Killing me!
Photo: pixabay
Devil in trouble
The Tasmanian Devil is in deep trouble. Since 1995 they have had to contend with the terrible facial cancer which is bringing them to the brink of extinction. Some scientists say they may only have 10-20 years left unless something drastic is done to protect them.
The Disease
The facial carcinoma, Devil Facial Tumor Disease (DFTD) disrupts the devils ability to feed and they die from malnutrition usually within 6 months. What a terrible way for these wonderful creatures to die.
Scientist have stated a drop in the devil's numbers has led to a loss of genetic diversity. This in turn has meant that the devil's immune system does not fight the cancers.
Please see quote below from Dr Katherine Belov of the Sydney University's School of Veterinary Science.
"Devils do not mount an immune response against DFTD, This is due to a loss of genetic diversity in the most important immune gene region of the genome: the Major Histocompatibility Complex (MHC)."
"In the case of devils, genetic diversity at the MHC is so low, and the MHC type of tumour and host are so alike, that the host does not see the tumour as 'non-self'."
So a loss of habitat due to logging has reduced the devil's gene pool which has meant the devil's are unable to effectively fight this disease.
The Greed of big logging companies
Another disaster caused by the greed of big companies, Governments and Big Business have traditionally caused major issues for our most endangered animals. Gunns and co caused a massive level of habitat destruction up until their demise back in 2013, along with their friends in high places, they must be sent a clear message that we as citizens of this country will not stand for the continued destruction of our environment and the animals that live there.
We can save them
The devil's in the Northwest of Tasmania are basically not yet affected by DFTD, however the continued clear-fell logging by companies such as Gunn's will further threaten this wonderful creature and cause them to go the way of their extinct cousins the Tasmanian Tiger.
This is our opportunity, stop the clear fell logging in Tasmania and especially in the Northwest area and right away we start to give this wonderful creature a fighting chance.
We can't bring the Tassie Tiger back, but given the right attitude we can save the Tassie Devil, SO;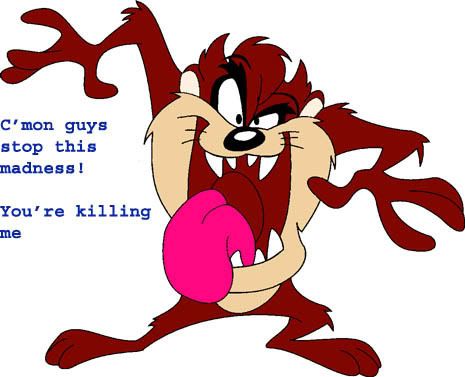 Picture: Looney Tunes via Wikipedia
Websites: Tassie Devil on Wikipedia and Save The Tassie Devil
Rescue of heart-broken dog dying alone in sewage
A great story showing a dog being rescued from near death
This is a very touching video, it shows a very weak and incredibly sad looking dog being rescued from a sewer in India. The organisation that is performing this and many rescues like it is Animal Aid Unlimited and is based in Udaipur, Rajasthan, India. They rely on donations and volunteer work. If this video has touched you, and you have a few dollars to spare, maybe you can visit their website and make a small donation, See the website here https://animalaidunlimited.org/
Amazing encounter with an Orca in the Sea of Cortez
Incredible footage of an encounter with an Orca in the Sea of Cortez (Gulf of California), absolutely amazing …
My colleague Beam sent me this footage today, so I thought I'd post it here, this video of an encounter with an Orca (Killer Whale) is absolutely amazing, Some of the comments have discussed how the Orca was trying to lull the woman into a false sense of security before striking, I don't agree, as far as we know there has never been a reported "In the wild" Orca that has attacked or killed a human, although we have heard of a few in captivity. I wonder how we'd all act if we were held captive by Orca's.
Alien looking shrimp in Outback Northern Territory, Australia
A collection of photos were posted to the Northern Territory Parks and Wildlife's Facebook page last year showing an alien looking creature that has appeared in the puddles after some recent heavy rains in the Northern Territory Outback of Australia
The photos were sent in by Parks and Wildlife Follower Nick Morgan, who found the strange looking creatures near Alice Springs.
"It's a type of crustacean known as a Shield Shrimp, and there is one species in Australia, Triops australiensis."
The species of shrimp are extremely well adapted to the harsh environment of Australia's deserts and their eggs can remain dormant for many years, before hatching when significant rains cause an explosion in their population.
As reported in a previous post Rain on Uluru , there have been significant rains throughout Central Austrlia, and this has provided the ideal environment for these Strange Looking Shrimp to thrive.
Story from Northern Territory Parks and Wildlife
Northern Territory Parks and Wildlife posts photos of strange looking shrimp