Apparently our own Sun has been a little quiet of late. With fewer sun spots and magnetic fields which are a little weaker than usual.
During this quiet period the Sun is displaying less intense solar flares, Sun spots and storms.
According to NASA scientists this is the quietest period of solar activity since 1913 and it is good news for us here on Earth. The less solar activity means better GPS navigation, Satellites stay in orbit longer and even the effects of Climate change are minimised, although only marginally with a 0.3 degree cooling at the most.
For more details on this story please see the link below at Top news.
Website: Topnews.in

Video: YouTube
It's probably the Engineer in me that loves this stuff… these machines are awesome and I'm very impressed with the way Malaysia solved their traffic and flood mitigation problems.
This initially is going to sound a little hypocritical, when I mention that I was a draft dodger. No it wasn't that I wouldn't fight to protect Australia… I just wasn't going to be involved in propping up a corrupt South Vietnamese government. Actually, I'm in favor of National Service… not necessarily in the military service, but more for full Citizenship Rights; including tax benefits.
Now the National Service which I would like to see implemented in Australia, is I believe, more along the lines of Norway's National Service, where people who had ideological issues with the military, could opt instead for positions within other government organization or on national projects.
What has this to do with TBMs? Well, when I see these machines, I see an opportunity for Australia to carry out large long term projects. Projects such as using a variety of these TBMs to rebuild our dilapidated and wasteful storm water and drainage systems, which would then incorporate power, gas, and water mains… that would get rid us of those godawful and dangerous power lines, thereby reducing the numbers of people killed and horribly injured on the roads (and save countless billions of dollars in the long run). It would also reduce the likelihood of increasing power outages from the probable increasingly frequent and violent storms caused by climate change… and it would allow us importantly, to make use of whatever storm water we get.
No doubt I'll be shouted down by a variety of people, but I don't see any government being likely to under take such huge projects, those morons cant see past the next election, and their sole method of insuring they win, is pleasing big business, who likewise are short sighted and can't see past their own bottom lines.
If I was Emperor, after I'd rid us of most of the Lawyers (spit on the ground) and politicians; I'd run the country by referendums like Switzerland. The first thing I'd suggest, is that we maximize the funding to the universities, collages and schools, get them to come up with the necessary alternative plans needed to run Australia… part of my idea is to reward participants for their two years of National Service, by giving them a fully funded University or Collage education, or conversly a low interest business loan or home loan. A dumb country only serves the elite few, whilst an educated country serves the majority… you either spend money on jails or schools.
By doing this we could undertake national projects that could extend for decades and which would normally never be undertaken by governments… or businesses. We could do the things that politicians are now totally incapable of doing, and perhaps gain a few fringe benefits, such as engendering some national pride and camaraderie, which I'm sure would come when people from differing walks of life work together, as they did on the rare but incredibly successful Snowy Mountain Scheme… anyway I'm raving again and my finger is getting sore from typing, so enjoy the other clips.
Tunnel Boring Machine (TBM) in action in Kuala Lumpur

Video: YouTube
POST CONTINUES Read more
Video: TedTalks
The average home, in a sense, is much the same design that reared it's ugly head some 8 or 10,000 years ago… little more than a box with windows and a couple of doors. The better new breed of housing, on the other hand, is where the living space is well thought out and takes into account sustainability, energy efficiency and the dynamics of how we live and work. The other thing that mystifies me, about the way we build our homes, is the fact, that they are not built to last, and are filled with toxic paints, carpets and a host of other such materials.
Another thing, related to the durability of our homes, is something that's often seen in areas of tornadoes, tropical storms and hurricanes, where houses disassemble, every time they are struck by these weather events, it's an inane way to construct homes and is very much a phoney capitalist consumer mentality… surely there are better ventures for business to get into, surely there are better ways to use our limited resources and provide employment opportunities… if it were up to me, I would suggest that the interest of humankind, would be better served by making sure all our eggs are not in one basket, all it would take to finish our race, is one decent size asteroid and if you think that's unlikely, do a search in Google Earth for asteroid craters.
Anyway, getting back to the video, having had a Norwegian trained Architect for a mother, who had a passionate hatred of ill thought out 'little boxes', I'm a huge fan of well designed and built homes and buildings in general as seen in this video.

Video TEDTALKS


"Architect Norman Foster discusses his own work to show how computers can help architects design buildings that are green, beautiful and "basically pollution-free." He shares projects from throughout his career, from the pioneering roof-gardened Willis Building (1975) to the London Gherkin (2004). He also comments on two upcoming megaprojects: a pipe to bring water from the Red Sea to the Dead Sea, and the new Beijing airport."
Well it looks like the Hippies were right all along!
As for iPods, well I own an iRiver which runs on a single rechargeable AA battery… so I don't have to send my MP3 player off to have the battery changed when it dies.
This video is worth watching. Although it pertains to commercial buildings for the most part, the basics apply to domestic housing, concepts which in Europe are largely the norm. Homes should be built to be practical, efficient and made to last.
My mother was, or is a European trained Architect, so I have probably a better appreciation of Architecture than most. We in England, the US and here in Australia, for the most part build appallingly designed homes. Sure there a few exceptions, but for the most part they do not take into account the local environment and they are certainly rarely built to last, or designed to conserve energy to any substantive degree.
I'll use the US as an example here, largely because they are the number one consumer nation. I don't know how many times I've seen US homes in Hurricane & Tornado areas, disassemble in the frequent storms. The first thing that happens is the roof generally lifts off in one hit… and then that's it for that building. Duh! Why keep building the easy to disassemble homes in the same area time, after time, after time?
How can it be economically correct to keep on doing what's not working? It might work for the Builders, Banks & Insurance companies… but that's all, it's broken economics. If you are going to live in those areas, build to last, build out of concrete or something that wont end up in the land of Oz, the first time a storm or Tornado hits.
If your in a hot or cold climate, why spend money year in year out air conditioning or heating, if with double or even triple glazing, proper insulation and proper design, you wont spent a fraction of what you probably are now on heating or cooling ever again… I just don't get it.
Governments should give huge tax breaks and give low interest loans to the needy to ensure that homes are both efficient and safe. They should punish people through taxes for building those godawful McMansions, as we call them in Australia… and we are no better here I'm embarrassed to say.
A lot of Australia's stupid ideas come from watching American TV, that promotes the illusions of grandiose mansions, which obviously are far from the norm. They are for the most place just empty headed warped imitations of 'good' homes, just with nose, teeth and boob jobs like many of the actors in those shows, in 10 or 20 years at best they will be gone… that's no way to build a house or a home for that matter. It's wasteful, inefficient and really stupid.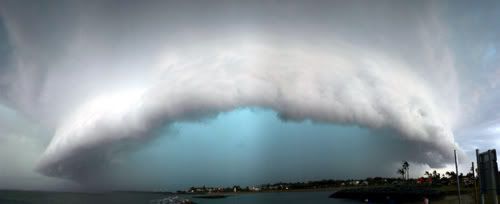 Photo: Unknown
More weird storms but this time in Australia.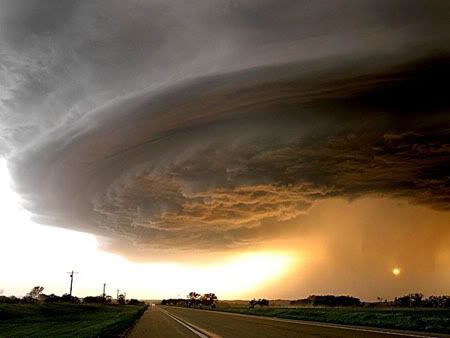 Photo: Unknown
a lot more
We recently found this collection of nine amazing storm photos, mostly from a Canadian blogsite, however we forgot to save the URL. If anybody knows the site please let us know via the comments.
Enjoy the photos, I found the cloud formations and colors absolutely incredible, would love to have been there in person.
Anyway, unless we start doing something about global warming, then these sorts of storms might soon be considered to be small.
Website: Unknown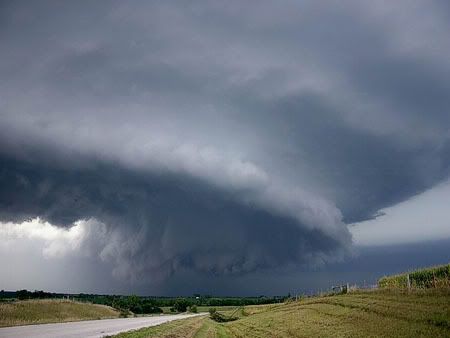 Photo: Unknown

Website: Unknown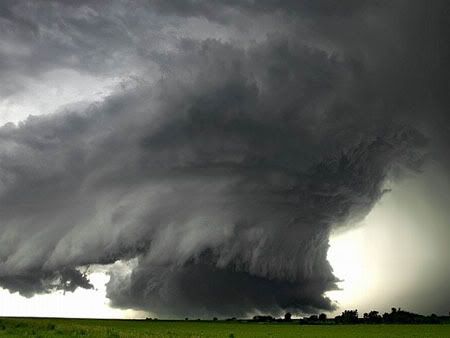 Photo: Unknown
Website: Unknown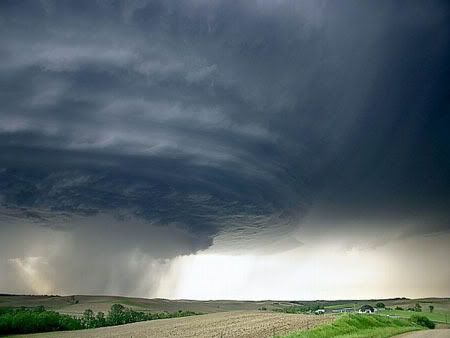 Photo: Unknown
Website: Unknown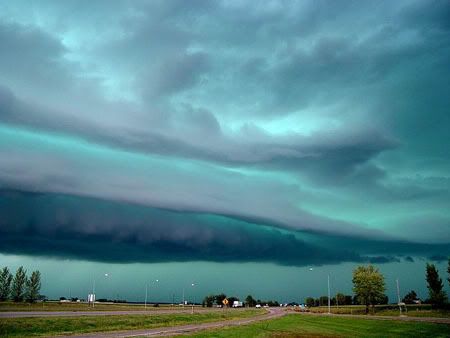 Photo: Unknown
Website: Unknown
Comments