Photo: dailymail.co.uk
In what may be an important breakthrough in the fight against global warming scientist claim to have invented a machine which will suck CO2 out of the atmosphere.
The machine has been invented by US physicist Klaus Lackner and his team. Lackner claims his machine offers more hope than attempts to cut down carbon emissions.
The idea is that the machines which would be the size of shipping containers would be produced in their millions and the captured CO2 could be pumped into greenhouses to improve the growth of food or plant crops.
The team of US scientists now plans to build a prototype which would capture one tonne of CO2 from the air every day.
The new invention may not keep everyone happy, as some environmentalist's claim attempts to capture the dirty emissions is just undermining our ability to introduce true renewable energy sources such as solar, wind, etc.
But physicist Klaus Lackner, who led the U.S. team behind the invention, said the CO2 scrubber offered more hope than current efforts to cut carbon emissions by reducing fossil fuel use.
I'd rather have a technology that allows us to use fossil fuels without destroying the planet, because people are going to use them anyway,' he said.
I believe that the CO2 sucker is a good idea as it is becoming increasingly evident that it is so hard to get Business and Government to clean up their dirty power.
What is really sad though is the fact that we need to invent a machine to suck CO2 out of the air, when every day we cut down millions of natural CO2 suckers. It is a really sad indictment of our so called "world leaders".
Website: CO2 Sucker at Dailymail via Digg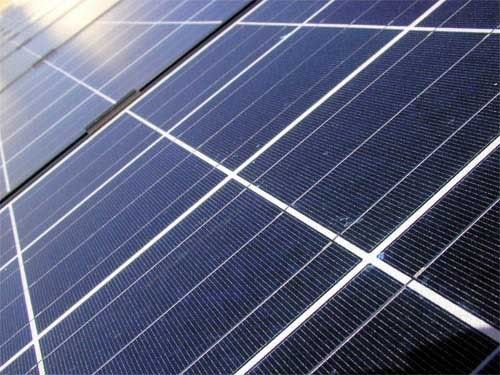 Photo: imageshack.us
A recent study by 2 community college researchers has suggested that California may need an extra 5,000 workers over the next year, to add to the existing 16,500 to 17,500 already employed in the solar industry in the state.
Although there will be jobs for salespeople and designers, the majority of the jobs will be on the roof doing installations, The industry desperately needs people to install rooftop solar arrays. "You don't need a Ph.D. or a B.A. to get into this industry, It's an opportunity to rebuild the working-class jobs that have been lost."
The salaries available will vary from $31,200 per year for entry level installers, up to $60,000 for those more experienced in installations. The solar designers and engineers can expect to earn a median salary of $83,000.
PaleBluDot's other author Beam has constantly suggested that people in timber or other environmentally disastrous industries can be retrained in industries such as Solar and Wind power generations. Sounds like there are going to be many opportunities for people to be transferred to the "green jobs" as renewable energy becomes a priority rather than just a minority.
Website: Solar Industry needs workers via Greenpacks.org

Photo: Coolgadgetconcept.com
So by now we would have all heard of Wind, Solar, Hydro, Geothermal and Wave Energy. All of these are good reliable proven sources of renewable green energy.
Well there is a relatively new system called the Dragon Power Station that has been developed by entrepreneur Terry Kenny. The principle of his design is a set of plates that are installed into the road, when trucks or cars pass over these plates they compress hydraulic fluid in tanks under the road, this in turn creates a pumping action, which is then used to turn a generator and produce electricity.
Terry has installed his Dragon Power Station at the Port of Oakland where there are around 2500 trucks driving over his plates each day. He expects for this prototype to produce between 5000 to 7000 kilowatt-hours each day, enough to power 1750 homes.
Good thing about this design is that given the trucks or cars driving over the plates would already be doing so, there appears that there would be very little net carbon emissions with this system, maybe a small amount in the production of the hydraulic fluid being used.
"The "Dragon" is already set to be installed in some other prime locations and Kenney foresees a profitable deal out of these devices."
Website: Dragon Power Station via Dragon Power Station

Video: YouTube
Bill Clinton hits the nail on right on the head. Big Business are scared of renewable sources of energy such as solar because it threatens the strangle hold they have on a centralised energy delivery systems. They are so afraid that they will lose control and therefore lose money.
WAKE UP POWER, OIL AND COAL INDUSTRIES. All that you need to do is get in now and develop your business around renewable sources. Some people will install their own solar systems or little wind generators, however there is always going to be huge demand for power as not everyone will be able to be self sufficient.
I feel that power utilities need to be legislated to convert the major fossil Fuel power stations to be run on renewable sources such as The Ausra Solar Thermal System. The beauty about these companies changing now is that a decent percentage of consumers are already saying that they are prepared to pay a small premium so that they can buy green power. Imagine the advantage these companies would have if they were among the first to phase out coal and start with renewable energy systems.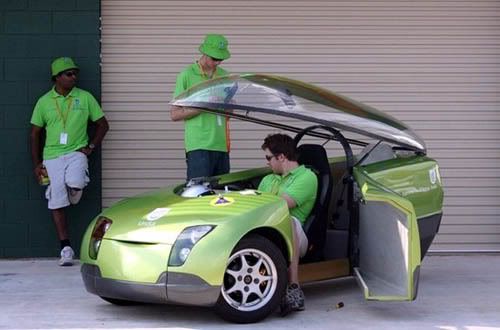 Photo: South Australia University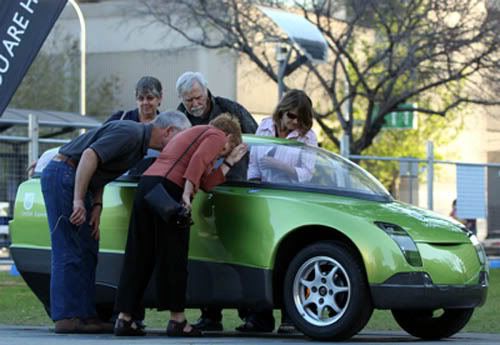 Photo: Car Domain
Staff and students at the South Australia University have designed and built an amazing vehicle called the TREV (Two-seat Renewable Energy Vehicle). The Trev is a tandem two seater, with enough luggage space for at least two overnight bags and it weighs only 300 kgs; obviously using a 2+ tonne vehicle for 2 commuting people or less is totally ridiculous.
This energy-efficient car is clean and quiet. It complies with road safety and worthiness regulations, has a top speed of 120 km/h and gives something like 150 km of city driving before it has to be recharged! The electricity costs about $0.18 per kWh and the cost of recharging Trev is only about 2 cents per 2 km (mile)!
The South Australia Labor government has long been a leader in the promotion of alternative energy. Recently the SA government passed legislation, that allows anybody or even small businesses, who produce more power than they need from renewable sources, to sell back their excess power for twice the going rate… how totally excellent is that, and tomorrow we shall have a closer look at that.
Website: TREV Team South Australia University

Video: YouTube
This YouTube video was provided by London film director Adam Spinks, and quoting Adam "The only war we need to fight is the one against emissions".
Now, Hallelujah (by Leonard Cohen) and performed here by Jeff Buckley doesn't talk of war or global warming, but it is however a song that seems to make me stop and think about what's going on in life and when I hear this song with the images provided in the video slideshow I think about the sheer stupidity of wars and the very real and dire situation our planet is in with Global Warming.
If you would like, please take a few minutes to sit back and listen to the wonderful voice of Jeff Buckley and maybe reflect a little about how close in relative terms this planet is to being totally destroyed by the greed and lack of action of many (not all) of the politicians and big business.
We really do need to come up with a practical way of replacing the coal power industry with the Solar Power Industry. My suggestion is that the coal industry invest in a big way in the solar thermal power, such as that being provided by Ausra Inc. See our previous post at the link below.
baseload renewable power, ausra solar thermal is the answer
Ausra are also keen for excess power generated throughout the day to be used to charge electric transport systems, this is definitely a win/win as both power generation and transport are utilising clean renewable energy.

Photo: Damian Dovarganes, Associated Press
Now this is a good idea. There is a huge number of roofs that are absorbing the suns energy everyday and this area is going to waste. Why not utilise this area to capture energy in the form of solar cells.
An extra 500 megawatts of renewable electricity
California's Governor Arnold Schwarzenegger has just announced 2 big solar projects for Southern California.
US Power Utility Southern California Edison has just announced plans to cover business rooftops in Southern California with 65 Million Square feet of Solar Photovoltaic cells, which will provide a total of 250 megawatts of electricity generation.
The plan also coincides with another 250 megawatts of solar thermal power that is to be installed and run by Florida Power and Gas (FPL) in the Mojave Desert.
The total of 500 megawatts is a significant number and is enough to provide electricity for more than 300,000 homes.
These two projects will help to ensure that California can meet it's goal of 20% of electricity from renewable sources by 2010.
Solar on many roofs
The Edison project will put photovoltaic solar cells on 65 million square feet of commercial building roofs in Southern California. These cells will produce as much as 250 megawatts of electricity and provide power for about 162,500 based on estimates.
POST CONTINUES see more on this story Read more

Video: YouTube
As one of the YouTube users comments say, There is always money for war, but not for education.
Strange how when there is a war the government can spend trillions, but the Earth is in dire straits and polar ice caps are melting but there haven't been trillions spent on renewable energy.
Lets get a little perspective here, It doesn't matter how much we spend on the wars if we don't have an earth that is livable.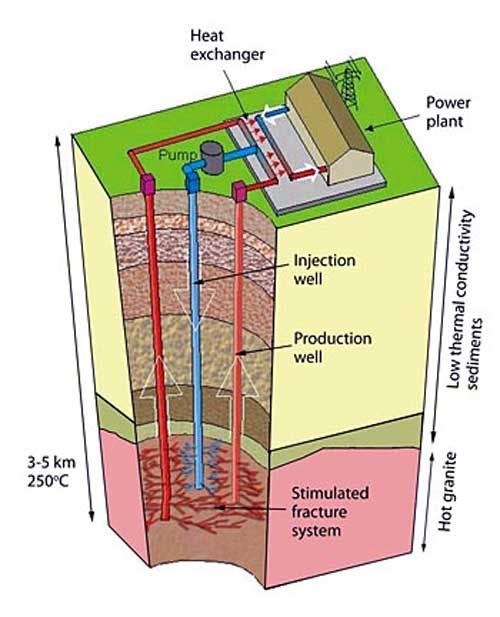 Photo: Geothermal Resources Limited
Basically geothermal energy relies on the fact that Earth has a molten core. In some places about 3-6 km below the surface of the Earth, there is a layer of super hot granite that can be as hot as 250c. It is said that one cubic kilometer of hot granite at 250c has as much energy in it as 40 million barrels of oil and Australia has a lot of hot granite that's within 3-5 km of the surface of the earth.
Geothermal energy offers a number of advantages over traditional fossil fuel based sources. From an environmental standpoint, the energy harnessed is clean and safe for the surrounding environment unlike coal, petroleum and atomic power. It is also sustainable because the hot water used in the geothermal process can be re-injected into the ground to produce more steam.
Geothermal power plants work continually, day and night, making them base load power plants. From an economic view, geothermal energy is extremely price competitive in some areas and reduces reliance on fossil fuels and their inherent price unpredictability. These plants also emit low levels of carbon dioxide, nitric oxide, and sulfur, although at roughly 5% of the levels emitted by fossil fuel power plants. However, geothermal plants can be built with emissions-controlling systems that can inject these gases back into the earth, thereby reducing carbon emissions to less than 0.1% of those from fossil fuel power plants.
Geothermal sites are capable of providing heat for many decades, eventually specific locations may cool down if the system designed was too large for the site… so short term greed could be a problem. However, if left alone, these sites will recover since the mantle has vast heat reserves.
If heat recovered by ground source heat pumps is included, the non-electric generating capacity of geothermal energy is estimated at more than 100 GW (gigawatts of thermal power) and is used commercially in over 70 countries.
A 2006 report by MIT, that took into account the use of Enhanced Geothermal Systems (EGS), concluded that it would be affordable to generate 100 GW (gigawatts of electricity) or more by 2050 in the United States alone, for a maximum investment of 1 billion US dollars in research and development over 15 years.
The MIT report calculated the world's total EGS resources to be over 13,000 ZJ (zettajoule – a number which makes my brain hurt). Of these, over 200 ZJ would be extractable, with the potential to increase this to over 2,000 ZJ with technology improvements – sufficient to provide all the world's energy needs for several millennia.
The key characteristic of an EGS (also called a Hot Dry Rock system), is that it reaches at least 10 km down into hard rock. At a typical site two holes would be bored and the deep rock between them fractured. Water would be pumped down one and steam would come up the other. The MIT report estimated that there was enough energy in hard rocks 10 km below the United States to supply all the world's current needs for 30,000 years.
South Australia has been described as "Australia's hot rock haven" and this emissions free and renewable energy form could provide an estimated 6.8% of Australia's base load power needs by 2030. According to an estimate by the Center for International Economics, Australia has enough geothermal energy to contribute electricity for 450 years and at present one megawatt of electricity costs about $45 an hour, compared with a coal power cost of about $35.
South Australia's Cooper Basin apparently has an energy output equal to 15 Snowy Mountain hydroelectricity power schemes. The resource contains more than 400,000 petajoules and could support the generation of in excess of 10,000 megawatts of electricity.
Website: Wikipedia
I think that most open minded people would agree that Climate Change / Global Warming is here, it is happening as we speak.
Man is without doubt responsible for a major percentage of this global warming. Quite possibly our major problems began with the industrial revolution.
So some among us want to fix the problem of global warming using Nuclear Power. You have people like our former Australian Prime Minister John Howard saying that we need to investigate nuclear power.
Well coal is definitely a problem, BUT nuclear is not the answer.
Two years ago at a national press club conference here in Australia a person by the name of Professor Ian Lowe was asked to speak. Below is Ian's response to the supporters of nuclear power. Now Professor Lowe is no crazy crack preaching under the guise of being green, he is a qualified physicist who among other qualifications was trained at the University of York, supported by the UK Atomic Energy Authority, so I believe he is very qualified to speak on these matters.
Professor Ian Lowe AO, ACF President, on Nuclear Power.
"Proponents of uranium mining are again loudly promoting nuclear power as a 'climate friendly' energy option. ACF President Professor Ian Lowe's address to the National Press Club, reproduced below, explains why nuclear is no solution to climate change…
I begin by acknowledging the traditional owners of the land on which we meet. One of the foundations of a sustainable future must be reconciliation with the Indigenous people of this country.
Forty years ago, I was preparing for my final exams. Having studied electrical engineering and science part-time for seven years at the University of New South Wales, I did well enough to spend the following year doing Honours in physics. I then went to the UK for doctoral studies at the University of York, supported by the UK Atomic Energy Authority. At the time, like most young physicists, I saw nuclear power as the clean energy source of the future. I want to tell you today why my professional experience has led me to reject that view.
I was nominated to speak here today by the Australian Conservation Foundation, of which I am President, and The Natural Edge Project, of which I am co-patron with former Governor-General Sir Ninian Stephen. ACF has been a leading independent force for conservation for nearly forty years. With about 30,000 members and supporters, ACF works with community, business and government, inspiring people to achieve a healthy environment for all Australians. The Natural Edge Project is a sustainable development think tank hosted in-kind by Engineers Australia. Both organisations are staffed by dedicated people who work tirelessly for the good of our nation. It is a real honour to be associated with ACF and The Natural Edge Project.
There is no serious doubt that climate change is real, it is happening now and its effects are accelerating. It is already causing serious economic impacts: reduced agricultural production, increased costs of severe events like fires and storms, and the need to consider radical, energy intensive and costly water supply measures such as desalination plants.
POST CONTINUES Read more
Comments