Photo: GBR Explorer
Also known as the sea wasp or marine stinger.
Regarded as one of the most dangerous of marine animals. The Box Jellyfish floats around almost invisible in the waters of Northern Australia; along side the 'Crocs', between October to April.
The venom present in the tentacles; which in some cases are almost 3 meters long, is extremely toxic and my result in cardio-respiratory dysfunction with in a just a few minutes.
Website: GBR Explorer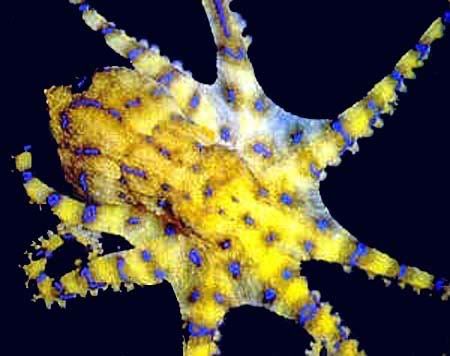 Photo: Photo: Earlham College Biology Department
The poison of the Blue Ring Octopus, is said to be 10,000 times more potent than cyanide… and there is no known antidote. The bite can lead to paralysis, respiratory arrest and finally death if artificial respiration and heart massage is not carried out on the victim and maintained till the toxin washes out of their system.
This little; not much bigger than a golf ball, somewhat attractive, innocent looking creature can be found widely from Australia to Japan, it's found in rock pools and as deep as 20m. The fact that it's attractive and found in rock pools, means that kids should be taught about it, since it's just the sort of thing that they would be attracted to if not warned.
Website: Wikipedia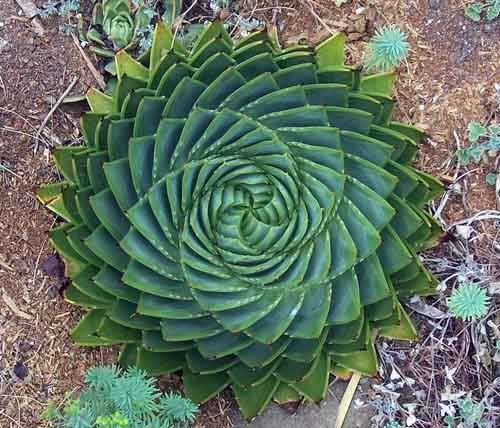 Photo: Stumble
What an outstanding looking plant.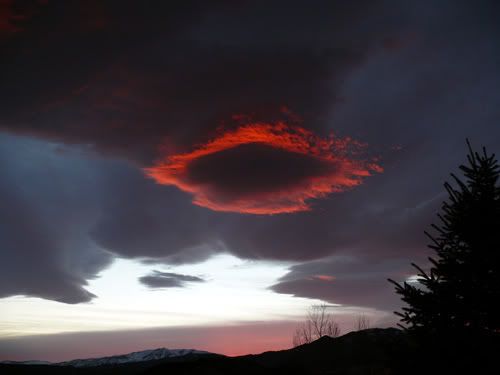 Photo: Stumbled
… cause we live in it.

Video: Ted Talks via YouTube
Edward Burtynsky makes a wish: that his images help persuade millions to join a global conversation on sustainability. Burtynsky presents a slide show of his photographs, which show how industrial development is altering the Earth's natural landscape. From mountains of tires to rivers of bright orange waste from a nickel mine, his images are simultaneously awe-inspiring and horrifying.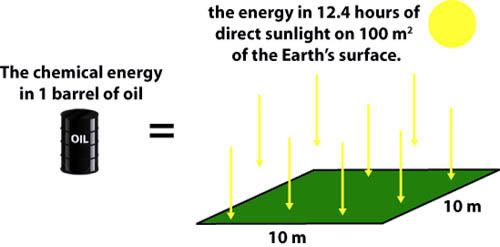 Photo: Energy Crisis! What Energy Crisis?
Sometimes a simple image can say sooo much.
Website: Energy Crisis! What Energy Crisis?
This morning whilst listening to our public national radio station, I heard a report of our current Labor government's removal of some government grants.
Initially rather than go on with my usual diatribe about governmental and banking ignorance and or corruption, I'll quote directly from our brilliant; despite the previous Howard's government's attempts to screw it, ABC Radio National.
Permo-Drive: Commercial Ready grants scrapped
"Now more on how the federal government has scrapped the Commercial Ready program, which provided funding, through dollar for dollar grants, to innovative and fast-growth businesses. Over the years, the scheme had provided more than $700 million in grants and its withdrawal has left 220 Australian businesses dangling, with applications worth from 250,000 dollars up to 5 million dollars pending.
Well, one of those businesses relying on a Commercial Ready grant was Permo-Drive, a company based in Ballina, New South Wales. They've developed a remarkable hybrid drive system for trucks and they have 20 demonstrators ready to roll along with huge interest from trucking companies here as well as overseas, including from the US Army. Now the company has written to its 1,900 shareholders to say that without the grant money, the company is no longer viable and will go into liquidation early next month." ABC Radio National (AM)
Can you believe it? I mean Australia is blessed with a disproportionately large number of brilliant inventors, with an equally large number of famous inventions, yet we are ruled by I'm sure by a disproportionately large number of total morons with IQs lower than my pet rock it seems.
Before I go any further here is a cut 'n paste section from Permo-Drive's website technology page complete with images.
POST CONTINUES Read more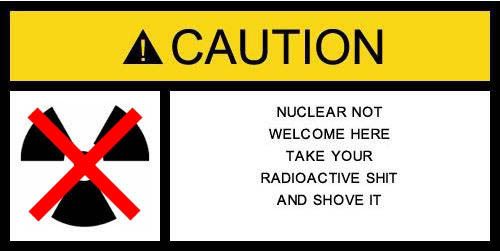 Photo: warninglabelgenerator.com
It is probably stating the obvious to say that PaleBluDot is a "Nuclear Free" zone. I just thought I would post this label here though so everyone can be clear about our stance on this hideous form of energy generation.
If you would like to generate your own warning label, you can see the link below.
Website: Warning label generator

Photo: onemanbandwidth.com
A picture says a thousand words!!! Well this picture might just be saying a million or two.
Website: onemanbandwidth.com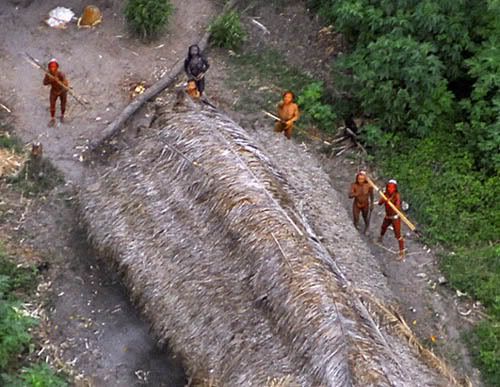 Photo: Gleison Miranda, Funai/AP Photo
The Brazilian Government has released photos of Amazon Indians who have never had contact with todays outside world. The reason behind the airing of the photos is to give the World an appreciation of the threats that these people face due to logging and encroachment on their way of life.
Anthropologists have known of these people for 20 years, however have now decided to call attention to the threat these people face of extinction.
"We put the photos out because if things continue the way they are going, these people are going to disappear," said Jose Carlos Meirelles, who coordinates government efforts to protect four "uncontacted" tribes for Brazil's National Indian Foundation."
The images were shot back in late April and Early May. The photos show about 12 Indians who were mostly naked and painted red and black and wielding bows and arrows in a show of defense of their six grass-thatched huts.
This particular group is believed to be related to the Tano and Aruak tribes. "Brazil's National Indian Foundation believes there may be as many as 68 "uncontacted" groups around Brazil, although only 24 have been officially confirmed."
POST CONTINUES many more photos of the Lost tribe Read more
Comments