Video: YouTube
As one of the comments states, humans are natural procrastinators! Please spread the word, get your local members of parliament to vote to do something real about managing global warming. We seriously need to implement real change to stop climate change.

Video: YouTube
There is an area on the south west coast of Tasmania Australia, where for a good part of the year you get enough wind as they say, to "blow a dog off the chain." Now you would think that such an area not only could supply a huge amount of not just wind power, but wave power as well.
Well you like myself would be disappointed, they'd sooner build a dam and kill another river… you see, most of the energy concerns are being given to big corporations, who contribute to the political parties, items such as windmills and wave power machines are more suited to medium companies who can't compete in the area of political donations.

Video: YouTube
I commend the Americans on their efforts to use Tidal energy. In northern Australia, as you will see below, we have Tides that are almost 40'… you got to be careful in these areas where you tie your boat up to, or you could find it underwater or hanging from it's mooring lines.
Anyway, you can see the high water mark on the rock walls in the video below… can you imagine the power you could generate with the energy in that water? Sure you mightn't be able lay down power lines back to the cities, but you may be able to say use that power on site, to produce hydrogen or drive a factory that produce solar cells and turbine generators, you know it helps if the manufacturing costs are offset by free or even cheap power.
The reason why they don't, is because as I often say, "When your snout's in the trough, the rim's your horizon."
Horizontal Waterfalls Fly Over & Jetboat Kimberley

Video: YouTube

Video: YouTube
There is some controversy over what tunes exactly the Titanic's band was playing on deck, as they and the Titanic slipped beneath the icy waters of the Atlantic on that April night. But the unconfirmed rumors say "Song d'Automne" and the appropriate "Nearer, My God, to Thee" were heard by the survivors.
WTF is the Hippie talking about I hear you say? Well, at a time when it's bleedingly obvious that things are going array, and after almost 12 years of total inaction by Bush in the US and Australia's Liberal (Republican look a likes) government led by John Winston Howard and his merry group of environmental vandals; acting on behalf of the coal companies, you would hope for an improvement.
Sadly Howard's replacement, Kevin Rudd's Labor (Democrat look a likes) government's first action is to put a means test on the subsidy given to people who put solar panels on their homes… yep you heard me right, hard to believe isn't it, but get this, ironically they said it was because they thought the Solar industries were in danger of overheating.
But wait there's more. Brendon Neilson, the new Liberal opposition leader, who prior to joining the Liberal party had an ear stud, and who prior to taking command, stated with gusto and feeling "I have never voted Liberal in my life"! is now doing his best to prevent Australia moving from being world leaders in pollution, to being leaders in the no action brigade and full steam a head on the economy. Meanwhile the band's breaking out their instruments.
Thankfully Western Europe is making an effort, Germany with about half the sunlight of Australia is actually doing more with solar than Australia, Holland and Great Britain are building tidal turbines, even though they don't have the 10 meter plus tides we have in the north of our country, and Iceland is going gangbusters with geothermal, whilst Australia is thinking about pilot geothermal plants… it's embarrassing.
But I'm going to save my praise for Allen Jones; currently working on solving London's power problems, who's one of the few who's got a grasp on the fact that centralized power sources; which only suit the power and fossil fuel industries, are largely inefficient and unnecessary, that with a bit of uncommon sense, you can provide all the power you need to drive a city in the city, by using a variety of what's often referred to as alternative energy… good on you Allen.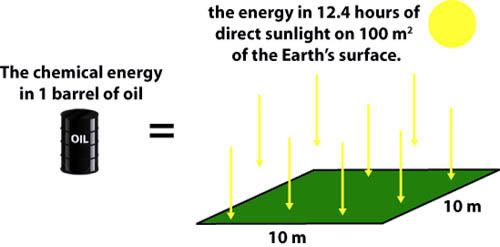 Photo: Energy Crisis! What Energy Crisis?
Sometimes a simple image can say sooo much.
Website: Energy Crisis! What Energy Crisis?

Video: YouTube
Robert Redford is another one of my heroes, a consummate actor, director, producer and supporter of up and coming actors, directors and producers of quality films. He's also an ardent conservationist and critic of President Bush and vice president Cheney, the mental environmental vandals, who are now using the current Oil crises, to make a case for the drilling of National Parks… just so their sponsors can go on controlling the worlds energy.
Our problems now are caused by over 40 years of those 'sponsors' not just inaction; which in it's self was a crime more than an act of incompetence, but for the other things which they will eventually be seen for what they really were, crimes against humanity. Amongst those crimes are, the shelving of pattens, which undoubtedly would have gone a long way to minimizing our current problems… and then there's the current crimes committed against the Iraqi people.
This morning whilst listening to our public national radio station, I heard a report of our current Labor government's removal of some government grants.
Initially rather than go on with my usual diatribe about governmental and banking ignorance and or corruption, I'll quote directly from our brilliant; despite the previous Howard's government's attempts to screw it, ABC Radio National.
Permo-Drive: Commercial Ready grants scrapped
"Now more on how the federal government has scrapped the Commercial Ready program, which provided funding, through dollar for dollar grants, to innovative and fast-growth businesses. Over the years, the scheme had provided more than $700 million in grants and its withdrawal has left 220 Australian businesses dangling, with applications worth from 250,000 dollars up to 5 million dollars pending.
Well, one of those businesses relying on a Commercial Ready grant was Permo-Drive, a company based in Ballina, New South Wales. They've developed a remarkable hybrid drive system for trucks and they have 20 demonstrators ready to roll along with huge interest from trucking companies here as well as overseas, including from the US Army. Now the company has written to its 1,900 shareholders to say that without the grant money, the company is no longer viable and will go into liquidation early next month." ABC Radio National (AM)
Can you believe it? I mean Australia is blessed with a disproportionately large number of brilliant inventors, with an equally large number of famous inventions, yet we are ruled by I'm sure by a disproportionately large number of total morons with IQs lower than my pet rock it seems.
Before I go any further here is a cut 'n paste section from Permo-Drive's website technology page complete with images.
POST CONTINUES Read more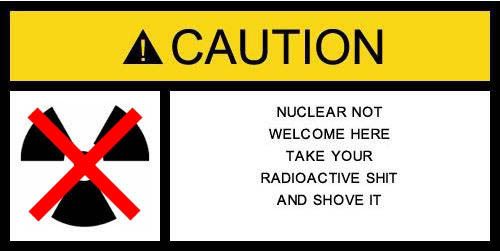 Photo: warninglabelgenerator.com
It is probably stating the obvious to say that PaleBluDot is a "Nuclear Free" zone. I just thought I would post this label here though so everyone can be clear about our stance on this hideous form of energy generation.
If you would like to generate your own warning label, you can see the link below.
Website: Warning label generator

Video: Google Video
To me the obvious ideal fuel is Hydrogen, it's clean, but above all there's plenty of it in the universe. I remember once reading that "Hydrogen, given enough time would turn in to people"… or words to that effect, the point is, it was the starting point, it's the fuel of the original star/s, and from which all other elements cometh.
The problem is, Hydrogen's not really a commodity that lends it's self to being controlled or capitalized by big business and until we stop political donations, the energy corporations etc. will not let the politicians force them, or us down that road, think about that next time you fill up your tank and look at the price of petrol.
Website: Panacea Online University

Video: The Real News
You know what really pisses me off? Germany with half the solar radiation of Australia, is doing more with Solar than we are… that's because our governments (both Liberal and Labor) are bought and paid for by the coal, oil & gas corporations.
Get this, our 'new' Labor government, means tested the government's Solar power rebate, to a house hold income of $100,000 pa… that's despite the fact that they know most households are suffering 'mortgage stress'; thanks to the calculating money grabbing world dominating bankers. I mean how mean and stupid is that? When we needed to get the solar businesses in Australia started up seriously, they put barriers for the ones who could have helped get the business up and running… the irony is, they said it was necessary to prevent the solar businesses over heating, they'd prefer them stone cold I expect.
After almost 12 years of the ignorant, mean spirited, stupid, environmental vandals led by John Winston Howard, who despite the rhetoric, did nothing to further alternative energy in Australia, and in fact, hindered efforts in the world to fight global climate change, by siding with that other intellectual giant (with the dogie IQ of 120), International Terrorist and mass murder George W Bush.
Comments