I've posted this film so that our readers/listeners/viewers can make up up their own mind, Yes we have our opinions, but I really do believe that it is your opinions that matter. The USA is meant to be a Democratic Republic isn't it?, and here in My Country Australia, we are a federation, a constitutional monarchy and a parliamentary democracy
In reality the Queen of England almost never gets involved in the running of our country (The last real time being 1975 When Gough Whitlam was sacked), So shouldn't Australian citizens be afforded the rights of a democratic republic as well, shouldn't the USA, Australia and all other Democracies be given a say in the running of their countries, It's our democratic right!!!
Democracy
noun
a system of government by the whole population or all the eligible members of a state, typically through elected representatives.
Republic
noun
a state in which supreme power is held by the people and their elected representatives, and which has an elected or nominated president rather than a monarch.
I'm not sure about you, but I cannot say that our society, our country, our people are afforded their entitlements, their rights based on the fact that we are supposed to be living in a Democratic republic. We are not offered any resemblance of this, we the people don't get a say in the running of our country. So my question is Why Not?.
And if Why Not?, what do we do about it, WE PROTEST RIGHT?, Well that's becoming easier said than done, our rights to protest are being eroded as well, but that's another story which I'll look at shortly in a future post.
Back to the Video
My take?, It is just another example of self serving organisations running their own agendas and the citizens just having to "suck it up".


What's it all about;
"the first film to look at the events of September 11, 2001 from a scientific perspective."
More about the film here –>> Read more

Video: YouTube
There is some controversy over what tunes exactly the Titanic's band was playing on deck, as they and the Titanic slipped beneath the icy waters of the Atlantic on that April night. But the unconfirmed rumors say "Song d'Automne" and the appropriate "Nearer, My God, to Thee" were heard by the survivors.
WTF is the Hippie talking about I hear you say? Well, at a time when it's bleedingly obvious that things are going array, and after almost 12 years of total inaction by Bush in the US and Australia's Liberal (Republican look a likes) government led by John Winston Howard and his merry group of environmental vandals; acting on behalf of the coal companies, you would hope for an improvement.
Sadly Howard's replacement, Kevin Rudd's Labor (Democrat look a likes) government's first action is to put a means test on the subsidy given to people who put solar panels on their homes… yep you heard me right, hard to believe isn't it, but get this, ironically they said it was because they thought the Solar industries were in danger of overheating.
But wait there's more. Brendon Neilson, the new Liberal opposition leader, who prior to joining the Liberal party had an ear stud, and who prior to taking command, stated with gusto and feeling "I have never voted Liberal in my life"! is now doing his best to prevent Australia moving from being world leaders in pollution, to being leaders in the no action brigade and full steam a head on the economy. Meanwhile the band's breaking out their instruments.
Thankfully Western Europe is making an effort, Germany with about half the sunlight of Australia is actually doing more with solar than Australia, Holland and Great Britain are building tidal turbines, even though they don't have the 10 meter plus tides we have in the north of our country, and Iceland is going gangbusters with geothermal, whilst Australia is thinking about pilot geothermal plants… it's embarrassing.
But I'm going to save my praise for Allen Jones; currently working on solving London's power problems, who's one of the few who's got a grasp on the fact that centralized power sources; which only suit the power and fossil fuel industries, are largely inefficient and unnecessary, that with a bit of uncommon sense, you can provide all the power you need to drive a city in the city, by using a variety of what's often referred to as alternative energy… good on you Allen.

Video: YouTube
I'm perfectly OK with a scale of human existence being much longer than generally thought. But, I'm not incline to some spiritual; for want of a better term, ethereal type being devolving back in to our current form. Now I'm not knocking all together the concept of devolution… the current US President George W Bush has some striking likenesses to a chimp, though I'd not want to be so disparaging to the chimps.
As for catastrophic events on Earth, which may have brought to a screaming holt the development of earlier humans, they are many. The polarity issues (North to South and visa versa) occur on a regular though widely spread, apparently the last one occurred about 780,000 years ago, and were overdue for the next one… this will create havoc with GPSs, Aircrafts and boats, and who knows what effects it may have on our electrical systems.
Another possible set back for humans in the distant past could have been of a volcanic nature… should the caldera in Yellowstone let go, and it too is apparently overdue, it would or will devastate, not just the US, but perhaps the planet.
Then a third candidate is meteor or asteroidal impact, and if you want to feel a little paranoid about that nightmare, do a search in Google Earth for impact sites, it's alarming how many there are and how they are spread over time.
So the possibility that earlier humans and their civilizations were devastated in the past is with us and you only have to realize that under certain circumstances, our civilization is very much dependent on electricity… think about that, think about what happens if the electricity is turned off for a few months along with sudden catastrophic climatic change.

Video: YouTube
Ain't hindsight wonderful. When you look at the enormous effort to discredit the Democrats over Bill Clinton's lack of self control and predatory sexual behavior, using what's seen by many as an appalling misuse of Kenneth Starr's position on the 'Office of the Independent Counsel', with the help of Linda Tripp, another Republican lackey, who somehow gets involved with Monica Lewinsky, to immobilize the Clinton Presidency, you wonder, is this what Democracy is about?
But it still took (in my opinion and many others) a corrupt election, with the aid of George W Bush's brother, Florida Governor Jeb Bush, as well as Florida's Secretary of State Katherine Harris, FOX TV (Rupert Murdoch) and the Supreme Court Justices Antonin Scalia and Clarence Thomas, to ensure that all the hard work of Karl Rove came to fruition.
All this was done so that Paul Wolfowitz and Co. could mount an attack on Iraq, who was falsely blamed both for 911 and having WMDs, just so they could get troops into Iraq, thereby controlling Iraq's oil and giving them an added presence in the Middle East, with which it could control the various local area pipelines, and later mount further attacks on Iran and Afghanistan.
However, it was the BBC's show Spooks that most eloquently put it all together for me. In the episode known as 'Aftermath', where Britain and America planned use climate change to their economic advantage, by the use of military force to capture major fuel sources such as coal and oil.
The plot went on to make the point, the various governments were going to only make a pretense of doing something about fighting global climate change, in actual fact they were going to let the world go to hell, and they were going to use their military might to ensure that they were in total control, and that a good percentage of the world's population would perish… personally I always thought they would accomplish much the same by some sort of engineered Bird flu or what ever, it is after all, too many people that is at the root of all our problems.
So I guess in the next few years we'll see if those who think like myself are right.

Video: YouTube
Man I'm finding it hard to believe that 'the world's biggest Democracy' would allow the electronic voting machine farce to go on like this. Here we have Mark Radke, the Marketing Director of Diebold Inc. speaking about Diebold. Well I don't know about you, but I would never trust a Marketing Director, whom I did not personally know to be honest… and I definitely do not trust this guy considering the circumstances.
Diebold Inc. and some of it's executives were major Republican fund raisers. On 14th August 2003 Walden W O'dell, the CEO of Diebold had written a fund raising letter, effectively telling George W Bush that he was "committed to helping Ohio deliver it's electoral votes to the President next year."… this is totally unbelievable, the CEO of Diebold actually was it seems, stupid enough to put this in writing!?
The other Diebold guy you see here is Robert Urosevich, on the 21 April 2004 at the Sacramento Voting Systems & Procedures Panel Public Hearing. Just check out his body language… pure arrogance in my opinion, and he continues with the barefaced lies about their code being stolen (allegedly by Bev Harris I assume), using room temperature IQ homilies… hey he must have been a Ronald Reagan fan.
All I get from these Diebold guys, is that they are reasonably crafted at trotting out the usual bullshit one hears from politicians and Lawyers (spit on the ground). A lot of homilies, generalities, clichés and word play, but no plain truth.
The other thing that this bit of footage makes plain, is that it matters little whether it's the Republican or Democrats in power, sure the Republicans are further to the right and support the Rich more, but the point is, the US government, as is the Supreme Court, is effectively owned lock stock and barrel by the Banks, and the only way I see this situation being turned around, is for Americans to get off their asses and vote intelligently, not just for their own sakes, but for the rest of the planet, because we just can't afford to have these criminals in charge of a military, that is so powerful and dangerous… 'your government' is sociopathic, and I for one am sick and tired of hearing the total bullshit, that "America is the world's biggest Democracy".

Video: YouTube
How do you know if your vote is counted correctly with these Diebold voting machines? Simple, you get George W Bush for president, not once but twice.

Video: YouTube
A 'philosophy' borne of a Right wing think tanks, which spawned "We're safer if we have politicians, who are a bit self interested and greedy, than if we have these zealots, the greatest danger of course is the zealots."
In America they had first Reagan then G.W. Bush; both zealots as well as self serving elitists, whilst in the UK they had Thatcher. These three politicians, are possibly amongst the most destructive and hated by the greatest percentage of their respective citizens, and they accomplished exactly what they were put in power for… making the rich richer.

Video: YouTube
Robert Redford is another one of my heroes, a consummate actor, director, producer and supporter of up and coming actors, directors and producers of quality films. He's also an ardent conservationist and critic of President Bush and vice president Cheney, the mental environmental vandals, who are now using the current Oil crises, to make a case for the drilling of National Parks… just so their sponsors can go on controlling the worlds energy.
Our problems now are caused by over 40 years of those 'sponsors' not just inaction; which in it's self was a crime more than an act of incompetence, but for the other things which they will eventually be seen for what they really were, crimes against humanity. Amongst those crimes are, the shelving of pattens, which undoubtedly would have gone a long way to minimizing our current problems… and then there's the current crimes committed against the Iraqi people.

Video: The Real News
You know what really pisses me off? Germany with half the solar radiation of Australia, is doing more with Solar than we are… that's because our governments (both Liberal and Labor) are bought and paid for by the coal, oil & gas corporations.
Get this, our 'new' Labor government, means tested the government's Solar power rebate, to a house hold income of $100,000 pa… that's despite the fact that they know most households are suffering 'mortgage stress'; thanks to the calculating money grabbing world dominating bankers. I mean how mean and stupid is that? When we needed to get the solar businesses in Australia started up seriously, they put barriers for the ones who could have helped get the business up and running… the irony is, they said it was necessary to prevent the solar businesses over heating, they'd prefer them stone cold I expect.
After almost 12 years of the ignorant, mean spirited, stupid, environmental vandals led by John Winston Howard, who despite the rhetoric, did nothing to further alternative energy in Australia, and in fact, hindered efforts in the world to fight global climate change, by siding with that other intellectual giant (with the dogie IQ of 120), International Terrorist and mass murder George W Bush.

Video: YouTube
Whilst you still can vote you should… and bitching about how they probably stole the last two elections is NOT a valid reason to not vote, you have the power to rid yourselves of them, turning off the TV is the first step.
Fair & Balanced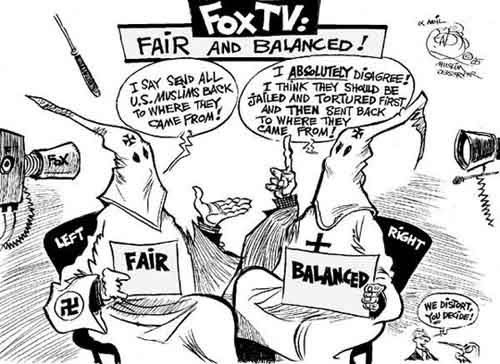 Photo: Stumble
George W Bush on cocaine

Video: YouTube
If this footage is genuine… I myself am speechless, and that's a rarity.
Comments