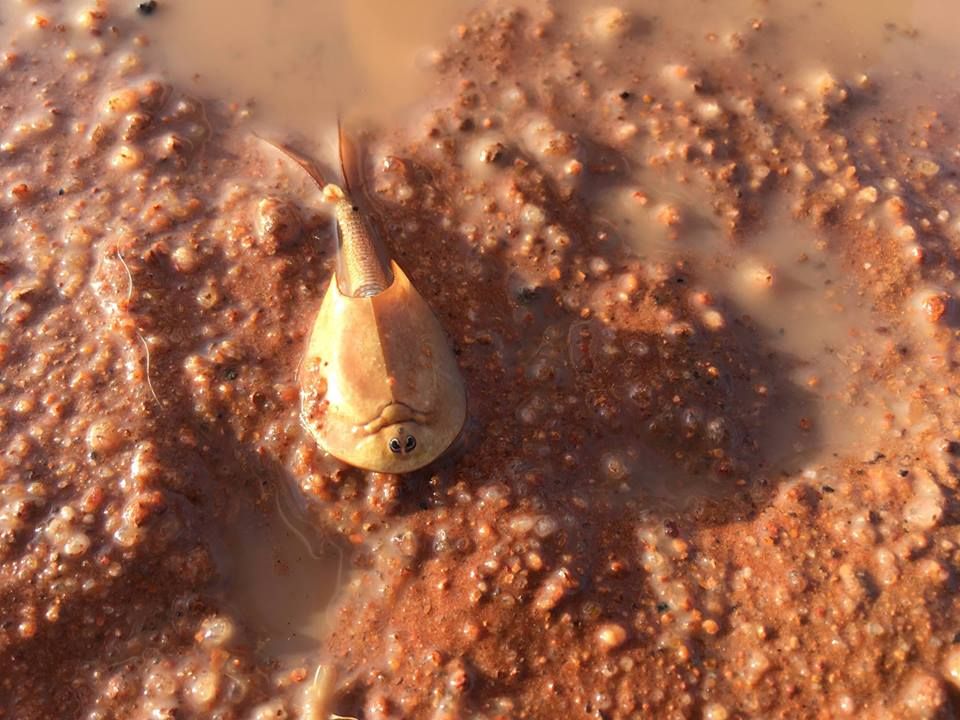 A collection of photos have been posted to the Northern Territory Parks and Wildlife's Facebook page showing an alien looking creature that has appeared in the puddles after some recent heavy rains in the Northern Territory Outback of Australia
The photos were sent in by Parks and Wildlife Follower Nick Morgan, who found the strange looking creatures near Alice Springs.
"It's a type of crustacean known as a Shield Shrimp, and there is one species in Australia, Triops australiensis."
The species of shrimp are extremely well adapted to the harsh environment of Australia's deserts and their eggs can remain dormant for many years, before hatching when significant rains cause an explosion in their population.
As reported in a previous post Rain on Uluru , there have been significant rains throughout Central Austrlia, and this has provided the ideal environment for these Strange Looking Shrimp to thrive.
More of these interesting creatures can be seen here –>> Read more
I've posted this film so that our readers/listeners/viewers can make up up their own mind, Yes we have our opinions, but I really do believe that it is your opinions that matter. The USA is meant to be a Democratic Republic isn't it?, and here in My Country Australia, we are a federation, a constitutional monarchy and a parliamentary democracy
In reality the Queen of England almost never gets involved in the running of our country (The last real time being 1975 When Gough Whitlam was sacked), So shouldn't Australian citizens be afforded the rights of a democratic republic as well, shouldn't the USA, Australia and all other Democracies be given a say in the running of their countries, It's our democratic right!!!
Democracy
noun
a system of government by the whole population or all the eligible members of a state, typically through elected representatives.
Republic
noun
a state in which supreme power is held by the people and their elected representatives, and which has an elected or nominated president rather than a monarch.
I'm not sure about you, but I cannot say that our society, our country, our people are afforded their entitlements, their rights based on the fact that we are supposed to be living in a Democratic republic. We are not offered any resemblance of this, we the people don't get a say in the running of our country. So my question is Why Not?.
And if Why Not?, what do we do about it, WE PROTEST RIGHT?, Well that's becoming easier said than done, our rights to protest are being eroded as well, but that's another story which I'll look at shortly in a future post.
Back to the Video
My take?, It is just another example of self serving organisations running their own agendas and the citizens just having to "suck it up".


What's it all about;
"the first film to look at the events of September 11, 2001 from a scientific perspective."
More about the film here –>> Read more
A video from August 2016 shows CNN Reporter Kate Bolduan sharing a video of 5 year old Syrian boy Omran Dagneesh sitting in the back of an ambulance after being pulled from the rubble of their house, which was hit hit by an air strike. Whilst explaining the situation, Bolduan begins to break down in tears as she recounts the story.
This type of story is just one of reasons why "We Do" Palebludot, It's to protest against the self imposed importance that rulers and leaders throughout our world place upon themselves and the harm that is done to innocent bystanders as these lunatics go about trying to claim their 15 Minutes of fame in their small corner of our planet, which is so insignificant in the scheme of things.
It is said so elequently in this excerpt of Carl Sagan's speech
"The Earth is a very small stage in a vast cosmic arena. Think of the rivers of blood spilled by all those generals and emperors so that, in glory and triumph, they could become the momentary masters of a fraction of a dot. Think of the endless cruelties visited by the inhabitants of one corner of this pixel on the scarcely distinguishable inhabitants of some other corner, how frequent their misunderstandings, how eager they are to kill one another, how fervent their hatreds."
Meryl Streep's speech at the 2017 Golden Globes has copped it's fair share of criticism. But not from me, Why shouldn't she be able to get up and voice an opinion, and why not in front of a global audience. That's just my opinion though.
An Object at Rest from Seth Boyden on Vimeo.
An awesome video that really doesn't need much in the way of explanation. –>> Read more
Comments