Video: YouTube
Don't believe in conspiracies?… fine, maybe that's what they want you to believe. Confused… fine, maybe that's what they want you to believe too. Why is it that the 'Elephant in the room'; too many people, scarcely rates a comment?
A good friend told me there are only two types of people on this planet… those who believed there are only two types of people and those who don't.
I guess it's the same for conspiracies, you either believe that huge amounts of money & power corrupts, that the more they have of these coruptors, the more they want and the more corrupt they become… or you believe the types who crave for more power & wealth play it straight and are not naturally inclined to resort to conspiracies.

Video: YouTube
Growing up in Canberra in the seventies and early eighties I used to watch a TV show called "The Life and Times of Grizzly Adams". I used to love the show and I also loved the theme song.
I recently found the song on YouTube. The song along with this video footage seems to portray some of what PaleBluDot is all about. Living free in harmony and majesty and Walkin' thru the land where every living thing is beautiful.
Greedy Politicians and Big Business people need to listen to this song and think about what they are doing to our world.
See the lyrics to Maybe Read more

Video: YouTube
Biodynamic is an excellent and sensible option for our food supplies. Below are a few comments from YouTube users re this video.
Username: Warpassasin
"Personally, I am an employee of this restaurant and every day I go to work there's always something new and exciting. I'm proud to be a member of this unique way of delivering a dining experience unlike most."
Username: Provojoe
"Biodynamic is a farming method developed in the 1920's by Rudolf Steiner in Germany. It involves regarding your farm as a closed ecosystem and uses homeopathic manure preparations that accentuate the interaction between the farm and planetary/cosmic forces. A biodynamic farm produces food that is unsurpassed in quality and flavor and brings about an actual healing of the soil."
Website: La Provence Restaurant

Video: YouTube
This is how we as humans should be treating the animals of this world. With love the and respect that they deserve.
By the way I don't agree that it is inside the cage, I just mean that the lady rescued him and now the lion has love and respect for her.
Maybe at some stage the lion could be used for breading to lift numbers returned to the wild, or even returned to the wild itself, although this might be hard once it has adjusted to life without having to hunt.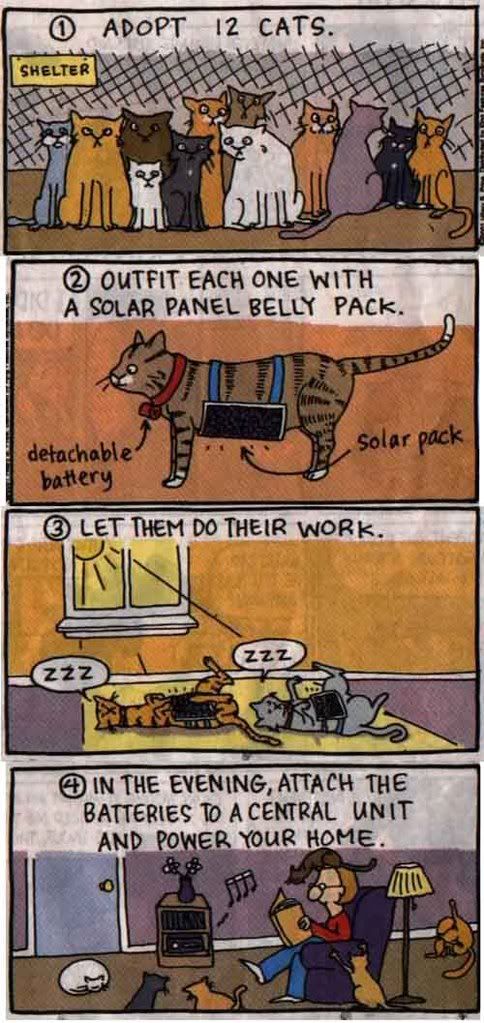 Photo: home.nc.rr.com/eshiue/
So all it's going to take to solve our energy crisis is a few billion cats set to work lying about in the sun.
On a more serious note I just want to pose one question.
Why is it that Governments around the world are continuing to build new nuclear power plant?
One look at the earlier Chernobyl post should be enough to make any decent person realize that we must use alternatives to nuclear power. I guess that answers my question, too few in positions of power are decent people.
Website: Cat Solar

Video: YouTube

The Media's roll in the 'herd mentality' and Monsanto's part in the war on 90% of the world's population.

Video: YouTube
I don't see even the slightest chance of this sort of thing happening to a solar cell, wind power or tidal power complex… but then the GE, Westinghouse etc. can't Control, monopolize or rake in huge profits from those 'alternate' power generators.

Video: YouTube
This video demonstrates the results of Biodynamic composting methods. The results are huge tomato palnts. The garbage that they refer to in this clip is organic household scraps.
For the full length video please click the link below.
Website: www.rotheraine.com

Video: YouTube
Website: Cost in terms of Dollars

Video: YouTube
Comments